We haven't really had many visa troubles before about five years ago. Maybe I was asking for trouble when using the need to buy a visa while preaching on Ephesians 2. There are these verses which speak to the importance of citizenship:
12remember that you were at that time separated from Christ, alienated from the commonwealth of Israel and strangers to the covenants of promise, having no hope and without God in the world….19So then you are no longer strangers and aliens, but you are fellow citizens with the saints and members of the household of God,
And the need to buy a visa (official permission to enter or remain in a country) is strictly attached to non-citizens. Which is us, wherever in Africa we go. So while we have the promise of citizenship in the kingdom of God, we remain foreigners in most places we work, and we have to buy permission to do so.
And in the last five years, this process has proved difficult on a number of occasions. In 2014, the Embassy of the DRCongo signed my visa on April 22, but due to a bad return envelope barcode, my passport bounced around between Washington, DC and Texas, until finally arriving at our house almost three weeks later on May 11 (I flew out the afternoon of May 14). I spent most of the week before on the phone with postal service workers trying to figure out what went wrong, then how to fix it. I was so excited when it arrived, I took a picture: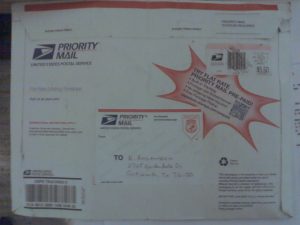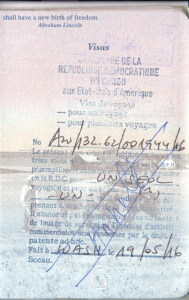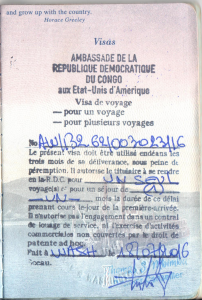 Then in 2016, for some reason internal to the DRCongo Embassy, they held onto our passports (Joel's and mine) for two full months. I got my passport back with one voided visa, dated May 19, and the good one dated July 18. This time, since our (nonrefundable) itinerary had us leaving the country on June 27, we had a lot of gymnastics to make the trip work, as described here.
---
Now this year, for our trip to Cameroon in March, we had another kind of issue. We mailed our passports and completed applications on Saturday, February 9, and tracking tells us they arrived at the Embassy on Tuesday the 12th, after only a brief hiccough. The Embassy says they have a seven day turnaround, but however they normally count days, it wasn't back in the mail to us until Wednesday the 20th, arriving here two days later (today, Friday Feb 22).
None of which would be a problem, except that when they arrived, our Cameroonian visas had not been granted. Apparently they didn't like our photos, and sent us a nice cover letter with boxes checked and the exact wording from their website, without any indication of why what we submitted didn't work for them. So I called and wrote an Email to ask for clarification, and asked our prayer warriors to get on this, asking God for communication, clarity, and a speedy turnaround for our resubmission.
I eventually got that the pictures we sent weren't white enough in their backgrounds. They were taken with clearly white stuff (a fridge and a wall) behind them, but apparently the lighting didn't leave the photo backgrounds white enough. So I removed the staples attaching those photos to the applications, took new photos, and edited and sent them off to Walgreen's for printing. I eventually picked them up, cut them into 2″x2″ photos, stapled them into the applications, and got the applications back in the mail. With all other post office locations closed, I used a contract location in the corner of a convenience store (never heard of this before), but it worked, and it got done this evening:

But that mailing was not before doing the math; even with one-day turnaround on our
part, it will still be something of a long shot to get them back before our flight on March 6. This is because our passports and visa applications are set to arrive in Washington, DC Monday Feb 25, two days from now (Not including Sunday). If the Embassy keeps to its seven day timeline, then they might not mail them back until Monday March 4 (but remember, last time they had our applications eight calendar days, which would be Tuesday, March 5). And if the USPS keeps to a second day delivery (like last time), it would arrive March 6 (or March 7, if mailed on March 5). Given that the mail normally arrives after we will need to be at the airport for our flight on that day, even a March 6 delivery will be too late to keep our current itinerary.
So I see two outcomes which are both plausible and positive. If the Embassy keeps a straight 7 day turnaround by the embassy (returning it May 4th), and if the USPS provides a true next day priority mail delivery, then our passports would arrive less than 24 hrs before we fly.
Alternatively, if the Embassy has our applications on some kind of priority (e.g., because they've seen them already?), they might return them in less than a full week's time. I honestly don't know how likely this is (I was somewhat surprised that it took them a full week to tell us that they didn't like our photos…), but they know our travel dates (that's part of the application), so they might be motivated to make this work for us. If they mail it by March 1 (a week from today), then we should have it by Monday even with a full two day USPS shipping, in plenty of time to not cancel our trip.
Anyway, we have our prayer warriors already praying for a speedy and correct return, and I trust that God is not limited by outcomes I consider plausible. So please join us in praying that God would be glorified in this situation, either by the means I've described above, or by something else more wonderful. As we look at our plans moving forward, we have become more and more persuaded that this trip would be an essential part of helping us all move in June in a sane manner, so we would really, really not like to have to cancel it (especially not on account of the mail).
If you would like to be praying for specific and timely requests like this, but didn't get the updates I mentioned above, please click on the "update subscription preferences" link on the bottom of one of your mailchimp Emails from us. That should take to a web form; be sure the box is checked next to "Email prayer and praise (text)".