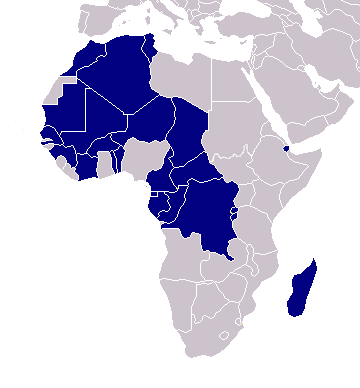 As you can see, there are actually lots of countries in Africa which have French as an official language as one sort or another —together they are called francophone Africa. When we started working in DR Congo (DRC), we had to first spend time learning French, because French is the language of government and higher education in the DRC.

Francophone Africa reaches from the DRC in central Africa, to a large chunk of West Africa, as can be seen in the map above. But it isn't just the geography of this area that is impressive; francophone Africa also includes about half of the remaining Bible translation needs in Africa (details at wycliffe.net).

While English speaking Nigeria has an astounding 344 languages with no scripture whatsoever, every other non-francophone language has less than 50. On the other hand, the needs are much larger in francophone countries for a variety of reasons: Cameroon has 139, DR Congo has 115, Chad has 74, and CAR has 53 (stats as of Oct 1, 2017).

In terms of the availability of workers, another reality of life in francophone Africa is that one cannot simply go there and work in English (unlike in countries like Kenya or Uganda, where English is an official language). This means more training, preparation and finances, resulting in fewer people ready to do the work. It also means French-speaking translators and linguists have fewer resource and reference materials accessible to the local community.

As we have been thinking and praying about our next assignment with Wycliffe, we have decided to continue to focus on work in francophone Africa. We have the training in French, and we have experience working with Africans under a francophone government. Given that we are ready to meet what remains a real need, we'll keep at the work in francophone Africa.
So as you think about francophone Africa, pray that the people who live there would have the resources (economically, personally, spiritually, culturally, linguistically) to initiate and sustain local Bible Translation movements, and that we and others like us could do our part to support them.