As you know I am smack dab in the middle of teaching James and Joel to read well and love reading. For a Literacy Specialist, this is a little bit like being a kid in a candy store! James doesn't really need any more teaching – just vocabulary, spelling and grammar instruction. Joel is starting to really pick up steam as he moves from sounding out every letter to remembering more and more sight words. It's fun to see him growing and loving it!
Six months ago I blogged here a bit about books I love to read aloud to the kids during snacktime, and yesterday I had a lovely surprise of being contacted by the author's grandson himself! You can find his comment listed below that post, or I can just fill you in here:
"I was happy to read your mention of The Happy Hollisters. My grandfather was Andrew Svenson, who wrote the series under the pseudonym Jerry West. The Hollister children were patterned on the real-life Svenson children: my father, aunts, and uncle. I know my grandfather would be delighted to know that his former fans still appreciate the Hollisters' wholesome adventures and are now introducing their own children to the books. I know he would also be fascinated with your family's travel adventures, since he loved to travel and incorporate his adventures into the books.
"I thought you might be interested to learn that we have just republished the first volume in the series — now in paperback, but otherwise identical to the original. If you like, you can read more about the project at our website (and see a photo of the family that inspired the books)"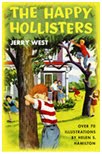 Here I thought I was enjoying some rare children's book from the 50's! In the summer after the third grade my family moved (which is big for a family that doesn't. ever. move.), and my Mom found me 3 copies of different Happy Hollister stories to read over the summer. I think I read each one 2-3 times! Over the years I always kept an eye out for other copies of books in the series, and never found any. This year it's James who's reading them over and over! And I was thrilled to hear there are 30 titles in all! I hope they all get republished… =)
Off to start a school day!